La conception de l'âme chez Abū Ḥayyān al-Tawḥīdī : L'exemple du Kitāb al-imtāʿ wa'l-muʾānasa
In order to examine the theme of Arab humanism by means of a conceptual approach, we shall look into the classic work by the famous author Abū Ḥayyān al-Tawḥīdī: Kitāb al-Imtāʿ wa'l-muʾānasa (The Book of Enjoyment and Conviviality). We shall mainly focus on one of the most significant philosophical aspects of his work—the soul. This study will examine various concepts and definitions of the soul, its relationship with human body and mind, its immortality, which are part and parcel of humanity. The author states that intellectuals disagree as to their definition of the soul, and their multifarious opinions leave us in bewilderment. This paper's aim is to engage in a discussion about soul so as to grasp its importance in Tawḥīdī. Broaching the question, this philosopher of litterateurs and the litterateur of philosophers presents his ideas according to his background as a Muslim intellectual and in accordance with the cultural aspects of his time and his social environment. This paper attempts to provide an overview of the author's moral and philosophical ideas.
Pour étudier le thème de l'humanisme arabe à travers une approche définitionnelle, nous proposons pour corpus l'œuvre classique du célèbre Abū Ḥayyān al-Tawḥīdī, le Kitāb al-Imtāʿ wa'l-muʾānasa (Le plaisir offert et la sociabilité partagée). Nous nous pencherons plus particulièrement sur l'un des sujets philosophiques les plus importants de cet ouvrage : l'âme. Dans cette étude, il sera question d'aborder les différentes définitions et les caractères de l'âme, ses liens avec le corps et l'esprit, son immortalité, ce qui définit l'être humain. Notre auteur constate que les opinions des savants sont partagées et divergentes à propos de la définition de l'âme et cette multiplicité de définitions conduit à la perplexité. Notre objectif est donc ici d'apporter une réflexion et de saisir le sens de l'âme chez Tawḥīdī. Pour parler de ce sujet, ce lettré des philosophes et philosophe des lettrés expose ses idées selon sa formation de musulman intellectuel et selon des données culturelles de son époque et de son milieu. C'est dans cette optique que nous essayerons d'illustrer la réflexion morale de l'auteur, sa pensée et ses positions.
Fichier principal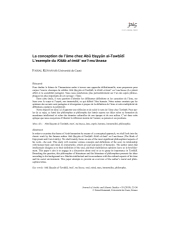 7635-Article Text-24014-1-10-20200104 (1).pdf (1021.12 Ko)
Télécharger le fichier
Origin : Publisher files allowed on an open archive