Create your own story: Alternation of voices and metanarrative discourse in Stefan Casta's novel "Näktergalens sång"
Créer sa propre histoire : alternance des voix et discours métanarratif dans "La vie commence" de Stefan Casta
Att skapa sin egen historia : Röstväxling och metanarrativ diskurs "i Näktergalens sång" av Stefan Casta
This article presents an analysis of the narrative and meta-narrative discourse of Stefan Casta's novel Näktergalens sång (The song of the nightingale), which shows that the book takes part in a new tradition in youth literature, characterized by an experimental form. The alternation of voices, changes of points of view and time, as well as the structure influenced by the cinema make the book demanding. The main narrator does not only tell his story, that other voices complete, he turns it into a novel. Thanks to this literary creation, Viktor evolves and finally finds the courage to really begin his life. His existence is confirmed by the novel he writes, and this makes him a hero. The novel by Casta allows young readers to identify themselves thanks to the accessible style and the references to cinema, while the complex narrative discourse attracts more experienced readers. It is this double-address which characterizes above all the Swedish youth literature of today.
Cet article propose une analyse du discours narratif et métanarratif du roman La vie commence (Näktergalens sång) de Stefan Casta, qui permet de constater que l'oeuvre s'inscrit dans une nouvelle tradition au sein de la littérature de jeunesse, caractérisée par sa forme expérimentale. L'alternance des voix, les changements de points de vue et de temps, ainsi que la structure influencée par le cinéma rendent le livre exigeant. Le narrateur principal ne fait pas que raconter son histoire, complétée par d'autres voix, il la transforme en roman. Grâce à cette création littéraire, Viktor évolue et trouve finalement le courage de commencer réellement sa vie. Son existence se confirme par le roman qu'il écrit, c'est en cela qu'il se montre héroïque. Le roman de Casta permet aux jeunes lecteurs de s'identifier eux-mêmes, notamment grâce au style accessible et aux références au cinéma, tandis que le discours narratif complexe attire des lecteurs plus expérimentés. C'est cette double-adresse qui définit avant tout la littérature de jeunesse suédoise d'aujourd'hui.
Fichier principal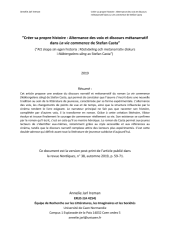 Créer sa propre histoire version post-print.pdf (1.22 Mo)
Télécharger le fichier
Origin : Files produced by the author(s)