Quelques aspects de la déshydratation naturelle des sédiments
Dredging operations generate large amounts of sediments considered as waste. The civil engineering field offers a number of applications for their re-use. For the most of the applications at the beginning of the process, it is necessary to reduce the water content. The natural drying consists to reduce the water content in the dredging sediment by drainage and evaporation. It is the most economic and acceptable option for the environment. It appears important to optimize drying technique by the use of dewatering ability criteria. A brief recap of some tests are presented. Tests in laboratory and measurements have been be performed with fall-cone vane shear test operated in dry and drainage cells filled with marine and dam sediments (Cherbourg and Honfleur ports, Isère, Durance and Rhin rivers). Dewatering and natural drying are governed with time but also by properties of sediment and by the relation of water content and undrained shear strength (C u-w).
Les opérations de dragage génèrent une importante quantité de sédiments qui seront considérés comme des déchets pour une gestion à terre. Le domaine du génie civil propose plusieurs applications pour leur réutilisation. Pour la plupart des applications il faut tout d'abord diminuer leur teneur en eau pour les valoriser. Le séchage naturel consiste à éliminer l'eau contenue dans les sédiments par évaporation et drainage. Cette technique est de loin la plus économique et acceptable du point de vue environnemental. Il est intéressant de rechercher, à l'aide des essais en laboratoire, des critères d'aptitude au séchage naturel des sédiments, en vue d'optimiser toute technique de déshydratation. Une synthèse d'essais de laboratoire est présentée. Ces essais ont été entrepris sur plusieurs sédiments marins et de barrage (Cherbourg, Honfleur, Isère, Durance, Rhin). Les moyens mis en oeuvre sont des essais d'égouttage ssociés à des mesures réalisées (cohésions non drainées Cu) à l'aide d'un fall-cône et d'un scissomètre de laboratoire. Les résultats d'essais ont pu montrer que le séchage dépend du temps, des caractéristiques des sédiments et de la relation de la cohésion non drainée par rapport à la teneur en eau (Cu-w).
Fichier principal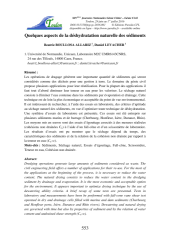 14_61_boullosa.pdf (368.14 Ko)
Télécharger le fichier
Origin : Publisher files allowed on an open archive