The legislative division of Vire during the 5th Republic : from a conservative stronghold to a land of alternations. 1958-2012.
La circonscription législative de Vire sous la Vème République : d'un bastion de la droite à une terre d'alternances. 1958-2012
The french legislative division of Vire, in Normandy, is a complex division. It's composed of different territories with specific electors. Historically, it's a conservative division. However, the division chose a « left » (labour) deputy, twice, between 1958 and 1952.The goal of our research is to identify and explain the political behaviour of its electors, and reasons why they choose a candidate and not another. All reasons have a different importance between two electors. For example, the national political context, the economic context, or the elector and candidate personalities have different importance if the elector is a minor or a farmer.Quantitative datas are our first source. We use legislative elections results in the division since 1958, and presidential elections results too. We also study electors themselves by means of electoral lists and INSEE sources. Electors identities, and results of each common, written in tables and maps allow us to compare them. Thanks to this, we can draw a political and sociological portrait, during the 5th Republic, of the Vire division, and look at its evolutions. Our second source is less quantitative. We use local press et tracts to study legislative campaign. We use memories too. It shows how electors live in this territory.All these factors have a different importance, however, there is one which seems to be characteristic of Vire division. It appears that the elector likes to know the candidate he has chosen. Its personality is one of the most important factor. It explains Olivier Stirn's carrier, and other deputies after him. We think it's one of the reason why the Vire division elected Alain Tourret, twice, its only left (socialist) deputy.
La circonscription législative de Vire est une circonscription complexe de par la diversité des territoires qui la compose et donc par la diversité de son électorat. C'est une circonscription historiquement de droite, pourtant, entre 1958 et 2012, elle choisit par deux fois un député de gauche. Cette recherche vise donc à cerner et comprendre le comportement électoral des électeurs de la circonscription de Vire, ainsi que les facteurs qui déterminent leur choix une fois dans l'isoloir. Ces derniers sont multiples et ne pèsent pas tous de la même façon dans le choix du vote. Le contexte politique national, le contexte économique, l'électeur lui-même ou encore le candidat, tous ces facteurs y participent.Cette recherche se base avant tout sur des données quantitatives : résultats électoraux lors des élections législatives depuis 1958, mais aussi résultats électoraux lors des élections présidentielles. Il faut aussi étudier l'électorat par le biais des listes électorales, et des données publiées par l'INSEE. La composition de l'électorat de chaque commune, ainsi que les résultats électoraux associés sont donc répertoriés afin de permettre des comparaisons dans le temps, et entre communes. Ces relevés précis permettent également d'établir des cartes et de rendre l'évolution politique et sociologique de la circonscription plus lisible. Une fois mises en parallèle, ces données dressent le portrait de la circonscription de Vire à chaque scrutin législatif. Il convient également d'y ajouter ce que nous appelons la réalité du territoire. Nous nous reposons alors sur la mémoire vive ainsi que sur la presse locale pour rendre compte du contexte et des campagnes électorales.L'ensemble de ces facteurs : CSP, contextes etc., jouent sur le choix des électeurs de la circonscription étudiée. Il est pourtant un facteur qui caractérise la circonscription : la personnalité du candidat lui-même joue un un rôle dans le choix de l'électeur. Il aime connaître le candidat pour lequel il vote. La longévité d'Olivier Stirn en est une preuve, tout comme celle des députés suivants. C'est ainsi que la circonscription de Vire choisit par deux fois Alain Tourret, son seul député de gauche entre 1958 et 2012.
Fichier principal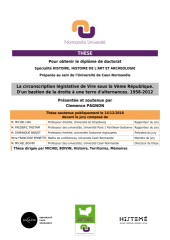 fix_RZy3DpZi.pdf (721.88 Mo)
Télécharger le fichier
Origin : Version validated by the jury (STAR)