Application of the Contingent Valuation Méthod (CVM) localised educational policies.
Application de la Méthode d'Évaluation Contingente aux politiques éducatives territorialisées
In order to control public spending and allow democratic expression of people's needs , it is useful to provide public authorities with tools for ex ante economic measure of program effects . This is the objective of the Cost benefit analysis (CBA). It aims at assessing the social impact of a program by comparing the benefits and costs converted into monetary units. The profit estimate is based on the individual preferences of the population, that is to say Willingness to pay (WTP) of consumer-citizens. A public program will be selected - among other programs - if it is deemed useful, as it increases the well-being of the society and is better than others in this respect. The challenge is to find new measuring instruments to assist multi-level public decision. The Contingent valuation method (CVM) allows you to assign a monetary value to non-profit public assets and services based on the preferences expressed by consumer-citizens. Although frequently used in the environmental domain, the method still remains very controversial ; hence the need carry out experiments in other areas of public policy to test the robustness. Also, within a comparative analysis between two modes of investigation, the thesis analyzes the technical feasibility and relevance of the CVM by applying it to a new area of social policies : the field of localised educational policies. This study examines whether the CVM may give reliable conclusions on the usefulness of citizens' input, in order to assist public decision-making. The thesis highlights the impact of the mode of survey on the behavior of respondents. It shows that the conditions of implementation do not guarantee a clear-cut identification of individual preferences. Secondly, the thesis underlines the limits of the CVM from a cognitive and political point of view. Indeed, policy makers lack data to make an informed decision, and they also face difficult and complex policy choices. Yet, this may jeopardize the legitimacy of the CVM in the public sphere. However, is it necessary to rule out applying this method in the world of public decision-making? On this very last point, the participatory approach applied in this thesis allows to show that if the method appears questionable, it may also be useful in the multi-level public policy debate.
Pour maîtriser les dépenses publiques et permettre l'expression démocratique des besoins des populations, il est utile de doter les autorités publiques, d'outils de mesure économique ex ante des effets des programmes. Tel est l'objet de l'Analyse coût et bénéfice (ACB). Elle vise à évaluer l'utilité sociale d'un programme en comparant les bénéfices et les coûts convertis en unités monétaires. L'estimation des bénéfices est basée sur les préférences individuelles de la population, c'est-à-dire les Consentements à payer (CAP) des citoyensconsommateurs. Un programme public sera choisi – parmi d'autres programmes – s'il est jugé utile en augmentant le bien-être de la société et meilleur en cela que les autres. Le défi consiste alors à trouver de nouveaux instruments d'évaluation aidant à la décision multiniveaux. La Méthode d'évaluation contingente (MEC) permet d'assigner une valeur monétaire à un bien public non-marchand à partir des préférences exprimées par les citoyensconsommateurs. Bien que fréquemment utilisée dans le domaine environnemental, la méthode reste à ce jour très controversée. D'où la nécessité de réaliser des expérimentations dans d'autres champs des politiques publiques pour en tester la robustesse. Aussi, dans une analyse comparative entre deux modes d'enquêtes, la thèse analyse la faisabilité technique et la pertinence de la MEC en l'appliquant à un nouveau domaine relevant des politiques sociales : le champ des politiques éducatives territorialisées. Il s'agit d'examiner si la MEC peut donner une expression fiable de l'utilité des citoyens à partir de laquelle aider la décision publique. La thèse met en lumière l'incidence du mode d'administration de l'enquête sur le comportement des personnes interrogées. Elle montre que les conditions de mise en œuvre ne permettent pas une bonne révélation des préférences individuelles. Sur le second point, la thèse met en évidence les limites de la MEC d'un point de vue cognitif et politique : les décideurs publics manquent d'information pour prendre une décision éclairée et se trouvent également confrontés à des choix de politiques difficiles et complexes. Or, ceci peut remettre en cause la légitimité de la MEC dans la sphère publique. Faut-il pour autant exclure la méthode dans le monde de la décision publique ? Sur ce dernier point, la thèse permet dans une approche participative de montrer que si la méthode apparaît contestable, elle apparaît également utile au débat public multi-niveaux.
Fichier principal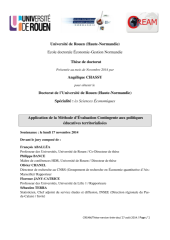 Fusion générale de la thèse - Angélique CHASSY Université de Rouen Laboratoire CREAM.pdf (4.7 Mo)
Télécharger le fichier
Origin : Files produced by the author(s)