Design and simulation of a 115.3 GHz microsensor made up of a V-antenna coupled with aphotonic bandgap selective filter loaded with a bolometer. Potentialities for the detection of VOCsin the THz domain.
Conception et simulation à 115,3 GHz d'un microcapteur composé d'une antenne en V couplée à un filtre sélectif à bande interdite photonique chargé par un bolomètre. Potentialités pour la détection de COV dans le THz
Volatile Organic Compounds (VOCs) in the air are known to have a detrimental effect on human healthand the environment. Standards for air quality have been defined, which require efficient chemical sensors allowingreal time monitoring together with a high sensitivity. This work reports on a possible microsystem using nondispersiveabsorption spectroscopy extended in the THz range, as proposed earlier by the electronic team of theGREYC UMR 6072 lab. It consists of a V-antenna coupled with a Photonic BandGap (PBG) selective filterloaded with a microbolometer.This thesis mainly deals with the study of the various losses in such a system, in a lower frequency range(around 115.3 GHz matching an absorption line of carbon monoxide (CO)). A prototype has been designed to obtaina small detecting time (1 s) of that molecule for a minimum concentration of 10 mg/m3 (official standard). Acoherent light (laser – 10 mW) through a 1 m long gas cell detected by the proposed system should reach thatlevel, with a quality factor Q higher than 100.The design was made using the classical theory on quarter-wave length line, and using 3D simulationtools (finite elements). Taking into account losses, a quality factor Q = 290 was obtained together with a detectingtime of 13 ms. The limitations of this prototype are finally analyzed. Improvements and topology modificationsare discussed in view of possible implementation in the THz domain.
Les émissions de composés organiques volatils (COV) dans l'atmosphère ont un effet néfaste sur la santé de l'homme et l'environnement. En réponse à ce risque, des normes pour la qualité de l'air ont été définies mais leur application nécessite la mise en œuvre de capteurs de gaz performants capables de détecter en temps réel les COV.Dans ce cadre, un microcapteur utilisant la spectrométrie d'absorption non dispersive étendue dans le domaine THz est à l'étude au sein de l'équipe Electronique du GREYC. Il comprend une antenne en V cascadée à un filtre sélectif à bande interdite photonique (BIP) lui-même chargé par un microbolomètre.Un premier démonstrateur fonctionnant en gamme sub-THz est proposé afin de mieux cerner les contraintes dues aux pertes. Son cahier des charges se résume à la conception d'un dispositif pour la détection en temps réel (environ 1 s) à la fréquence de 115,3 GHz correspondant à une raie d'absorption moléculaire du monoxyde de carbone (CO). Une concentration minimale détectable de 10 mg/m3 (norme officielle) est possible au travers d'une cellule gaz (1 m de trajet optique), attaquée par une source laser (10 mW), avec un détecteur accordé de facteur de qualité minimum Q = 100.La conception, guidée par une approche classique du filtre à tronçons cascadés de lignes micro ruban, est réalisée à l'aide d'outils de modélisation 3D (éléments finis). Les résultats obtenus sont très concluants en raison de performances remarquables comme un facteur de qualité Qfinal = 290 à 115,3 GHz et un temps d'acquisition, pertes incluses, d'une valeur tacq = 13 ms. Les limites de ce prototype sont analysées et des améliorations, en vue d'une transposition dans le domaine THz, sont proposées.
Fichier principal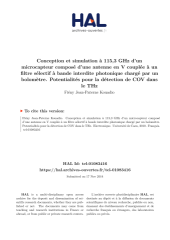 THESE_JP_KOUADIO.pdf (3.18 Mo)
Télécharger le fichier
Origin : Files produced by the author(s)