Role of pectin methylesterases and their inhibitors during germination and pollen tube polarized growth in Arabidopsis thaliana.
Implication des pectines méthyl-estérases (PMEs) et de leurs inhibiteurs (PMEIs) au cours de la germination du grain de pollen et de la croissance polarisée du tube pollinique chez Arabidopsis thaliana
Durant la reproduction sexuelle des plantes, la germination du grain de pollen et la croissance du tube pollinique dans le pistil sont des étapes essentielles pour permettre la fécondation et la production de graines. Le grain de pollen est composé de deux noyaux spermatiques et d'une cellule végétative délimitée, de l'interieur vers l'extérieur, par la membrane plasmique, l'intine et l'exine. La dégradation de l'intine, composée de polysaccharides complexes dont les homogalacturonanes (HGs), est nécessaire pour une bonne germination du grain de pollen. Les HGs sont synthétisés sous leur forme fortement méthyl-estérifiés, dans l'appareil de Golgi, avant d'être sécrétés dans la paroi. La dé-méthyl-estérification des HGS est catalisée par des enzymes pariétales, les pectines-méthyl-estérases (PMEs). Lorsque les HGs sont dé-méthyl-estérifiés, ceux-ci peuvent se lier entre eux via une interaction avec le calcium, qui permet un renforcement pariétal dû à ces structures en «boîtes à æufs». Lorsque les HGs sont partiellement dé-méthyl estérifiés, ils peuvent être la cible d'autres enzymes, telles que les polygalacturonases, ce qui entraîne également une modification des propriétés physiques de la paroi. Quatorze des 66 PMEs chez A. thaliana sont exclusivement exprimées dans le grain de pollen et le tube pollinique. Nous avons analysé l'expression de ces 14 PMEs par qRT-PCR à trois stades de la germination du grain de pollen : dans le grain de pollen sec, dans les grains de pollen en cours d'imbibition et lors de la croissance des tubes polliniques. L'expression est à la fois dépendante du temps et du gène. Nous avons donc analysé par la suite des lignées mutantes pour les PMEs : PPME1, PME48 et PME23, à la fois in-vitro et in-vivo. Les lignées mutantes présentent des rétards de germination par rapport aux grains de pollen sauvages. De plus, des phénotypes remarquables comme des doubles germinations ou un taux important d'éclatement des tubes polliniques ont été mis en évidence. L'objectif de ce projet a été de préciser le rôle des PMEs et des PMEls au cours du trafic cellulaire dans la régulation des propriétés dynamiques et le remodelage de la paroi du grain de pollen lors de sa germination et des tubes polliniques lors de leur croissance.
During sexual plant reproduction, pollen germination and pollen tube elongation in the pistil are essential for delivering the sperm cells to the ovule. Pollen grain is composed of two sperm cells and a vegetative cell limited, from the inside to the outside, by a plasma membrane, the intine and the exine. The degradation of the intine, composed of complex polysaccharides including homogalacturonans, is of main importance to insure a proper germination. Homogalacturonan (HG) is assumed to be synthesized under a methylesterified form in the Golgi apparatus before its secretion to the cell wall. De-methylesterification of HGs is catalyzed in the cell wall by Pectin methylesterases (PMEs). Upon block-wise action of PME, the blocks of de-methylesterified HGs can interact with Ca2+, promoting the formation of the so-called 'egg-box' structure and thus rigidifying the cell wall. Upon random action, the partially de-methylesterified HGs may become a target for pectin-degrading enzymes, such as polygalacturonases, affecting the texture and rigidity of the cell wall. Interestingly, 14 of the 66 Arabidopsis PMEs are specifically expressed in pollen grain and pollen tube. We have analyzed the expression of these 14 PMEs by RT-PCR in dry pollen grains, during imbibition and pollen tube growth. The expression is gene- and time dependent. Based on this, we have studied knock-out mutants PMEs (ppme1, pme48 and pme23), under in-vitro and in-vivo conditions. These mutant lines present a strong delay in germination compared to the wild type and a remarkable phenotype with multiple pollen tube tips emerging from the pollen grain and an important bursting pollen tubes rate. The objective of this project was to clarify the role of PMEs and PMEls during the regulation of dynamic properties during cell traffic and remodeling of the pollen grain cell wall during its germination and during the growing pollen tube cell wall.
Fichier principal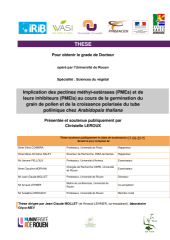 2015_Leroux_C_Pollen_Cell_Wall_Modification 2015.pdf (18.8 Mo)
Télécharger le fichier
Origin : Files produced by the author(s)