Accroissement de la complexité des décisions dans un contexte de prolifération des règles
Companies in the extractive sector implement local content measures in the areas in which they operate. These measures – training, education, employment, infrastructure, health – must benefit local populations. Companies report on these activities by publishing the information required by the Non-Financial Reporting Directive (NFRD). This paper depicts how rule proliferation impacts decision making complexity. Although this phenomenon is known, very few scholars have studied rule proliferation and its impact on decision making. Hence, most managerial decision making on rules is based on common knowledge as opposed to scientific knowledge. This model reveals decision making complexity by examining search costs, calculation costs and complexity costs at different rule complexity levels. It leads to a series of propositions ready to be empirically tested. Our paper helps manager understand how rule proliferation interacts with decision making and intensifies complexity.
Cet article décrit comment la prolifération des règles impacte la complexité en prise de décision. Bien que ce phénomène soit connu, peu de chercheurs ont étudié la prolifération des règles et son impact sur la prise de décision. Ainsi, bien des décisions managériales sur les règles sont basées sur des connaissances communes plutôt que sur des connaissances scientifiques. Le modèle illustre la complexité de la prise de décision en examinant les coûts de recherche, les coûts de calcul et les coûts de complexité à différents niveaux de complexité de prolifération des règles. Il conduit à une série de propositions pouvant être testée empiriquement. Le modèle permet aux dirigeants de comprendre comment la prolifération des règles interagit avec la prise de décision et intensifie la complexité.
Fichier principal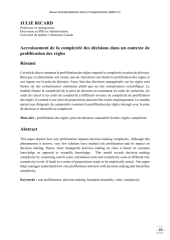 7-J.-Ricard-Accroissement-de-la-complexite-des-decisions-proliferation-des-regles-RIDO-2 (1).pdf (518.13 Ko)
Télécharger le fichier
Origin : Explicit agreement for this submission