Regards croisés sur l'intérêt d'un audit social de pré-acquisition en PME
This article is the result of a collaboration between two researchers from the fields of management science and law. The authors explore, in the case of an acquisition by an external third party, the interest of carrying out a social audit in an SME, which they consider to be both legal and human. The control points they raise have been encountered either during social audits or in the context of legal disputes. Their choice is guided by the human or financial consequences they may have in practice. This study has a double objective: on the one hand, it provides the community with avenues of research on the subject and, on the other hand, it offers buyers a first decision-making tool to better understand, evaluate and prevent social risks in their entirety.
Le présent article est le fruit d'une collaboration entre deux chercheuses issues des sciences de gestion et des sciences juridiques. Les auteurs explorent dans le cas d'une acquisition par un tiers externe tout l'intérêt de réaliser un audit social en PME, qu'elles estiment à la fois juridique et humain. Les points de contrôle qu'elles soulèvent ont été rencontrés soit au cours d'audits sociaux, soit dans le cadre du contentieux judiciaire. Leur choix est guidé par les conséquences humaines ou financières qu'ils peuvent avoir en pratique. Cette étude vise un double objectif : elle offre, d'une part, à la communauté des pistes de recherche sur le sujet et, d'autre part, aux repreneurs un premier outil d'aide à la décision, pour mieux appréhender, évaluer et prévenir les risques sociaux dans leur intégralité.
Fichier principal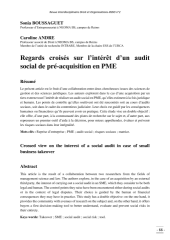 6-S.-Boussaguet-C.-Andre-Regards-croises-sur-linteret-dun-audit-social-de-pre-acquisition-RIDO-2.pdf (376.13 Ko)
Télécharger le fichier
Origin : Explicit agreement for this submission