Judas à Mispa : un spectacle de la légitimation Maccabéenne (1 M 3, 46-60)
The First book of the Maccabees offers a presentation of a specific event, very deeply bound with significations interesting as to the Hasmonean' s pretentions at the head of the Jewish people. According to the author, just before the battle of Emmaüs in 165 BCE, Judas Maccabee would have united his followers in order to celebrate a ritual ceremony, during which all of them would have submitted their own destinies to God. However, this text is so full of biblical references and so useful for justifying the form of power exercised by the family in the days of John Hyrcanus (134-104 BCE), that one may ask whether this piece of literature would not have been an instrument of scriptural legitimization, built in the Hasmonean court in order to extol the virtues of the high priest, instead of a testimony of true events and practices.
Le Premier livre des Maccabées contient la description d' un spectacle riche de significations sur les prétentions de la famille hasmonéenne à la tête du peuple juif. Si l' on en croit l' auteur, peu avant la bataille d' Emmaüs en 165 av. J.-C., Judas Maccabée aurait réuni ses partisans pour une cérémonie rituelle au cours de laquelle tous se seraient remis entre les mains de Dieu. Mais le texte est à ce point chargé de référents bibliques et si riche pour justifier rétrospectivement la forme du pouvoir exercé par la famille aux temps de Jean Hyrcan (134-104 av. J.-C.), qu' il est possible de se demander si ce morceau de littérature ne serait pas davantage un outil de légitimation scripturaire, construit à la cour hasmonéenne en vue d' auréoler le souverain, que le témoin fidèle d' événements et de pratiques historiques.
Fichier principal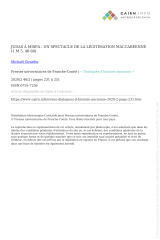 Girardin - Judas à Mispa.pdf (2.11 Mo)
Télécharger le fichier
Origin : Explicit agreement for this submission