Le style dans la pensée de Michel Foucault. D'une désubjectivation du style à la généalogie stylistique du sujet
The notion of style is not an explicit concept in Michel Foucault's works, although it appears regularly in his books and papers. In his introduction to Binswanger's Dream and Existence, Foucault is still strongly influenced by phenomenology and existentialism: style is defined as the moment where expression is addressed to someone in order to be understood. Foucault's definition of style is still phenomenological: it is an expression of a subjectivity or a being-in-the-world. On the contrary, in his structuralist period, especially in The Order of Things and in The Archaeology of Knowledge, style strictly characterizes an anonymous historical a priori. But how can one understand that some individuals invent new styles of knowledge and discourse? Foucault does not completely resolve this difficulty in his paper on the author at the Société française de philosophie. In the History of sexuality, Foucault finally links critic and genealogy of subjectivity, thanks to a new definition of style: in the stylistic of existence, style is neither the expression of a subjectivity, nor an anonymous and collective mark, but the operator of a subjectivation process through the quest for an ethical and substantial excellence. This foucaldian conceptualisation of style, in the 1980s, is completely understood having in mind the struggle for gay rights in 1970s and the 1980s. In different militant texts, Foucault explained that the quest for a homosexual style of life is politically as important as gay rights themselves.
Le terme de style n'est pas conceptualisé explicitement par Foucault, quoiqu'il apparaisse au fil de toute son œuvre. Dans le texte qu'il consacre au Rêve et l'existence de Binswanger, Michel Foucault est encore fortement influencé par la phénoménologie et l'existentialisme : le style y est défini comme le moment où l'expression est effectivement adressée à quelqu'un, et cherche à se faire comprendre. Le style est donc encore compris selon les coordonnées phénoménologiques de la subjectivité et de l'être-au-monde. Dans la période structuraliste des Mots et les choses et de L'archéologie du savoir, le style au sens strict caractérise au contraire un a priori historique anonyme. La difficulté, que ne parvient pas totalement à résoudre Foucault dans sa conférence sur l'auteur à la Société française de philosophie, est alors de comprendre comment un individu peut inaugurer un style de savoir ou de discours. C'est dans l'Histoire de la sexualité que Foucault parvient à articuler critique et généalogie de la subjectivité à travers le concept de style : avec l'idée d'une stylistique de l'existence, Foucault ne pense plus le style comme l'expression d'un sujet ou comme une simple marque anonyme et collective, mais comme l'opérateur d'une subjectivation par la recherche d'une excellence éthique substantielle. Cette conceptualisation foucaldienne du style, dans les années 1980, doit être mise en perspective avec les textes militants du philosophe, où la recherche d'un « style de vie homosexuel » est un enjeu qui dépasse la simple obtention de droits.
Fichier principal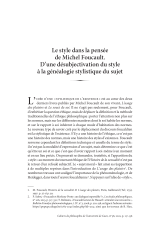 CPH58_05_Pouradier.pdf (674.68 Ko)
Télécharger le fichier
Origin : Publisher files allowed on an open archive