Neuzugezogene Landwirtinnen vor der Herausforderung einer Scheidung
Women neo-farmers put to the test of marital separation
Agricultoras neo rurales confrontadas con la separación de su pareja
Agricultrices néorurales à l'épreuve de la séparation conjugale
Mulheres agricultoras neorrurais enfrentando o desafio da separação conjugal
面对夫妻离异的新农业女性
In der wissenschaftlichen Literatur lässt sich die Aufrechterhaltung der männlichen Dominanz in der Landwirtschaft besonders durch das Prisma der Scheidung analysieren. Basierend auf zwei Fallstudien aus einer Presseschau (in der Tageszeitung Ouest-France) werden in diesem Artikel Forschungsfragen vorgeschlagen zu den Rollen verschiedener Kapitalformen und den Auswirkungen in Bezug auf die Atypizität von Landwirtinnen, die von ihren Ehepartnern getrennt sind und die an der Spitze des Familienbetriebs bleiben. Im Gegensatz zu anderen neuzugezogenen Landwirtinnen scheinen sie in der Lage zu sein, bestimmte Geschlechternormen in der Landwirtschaft zu überwinden, trotz anhaltender männlicher Dominanz.
In the scientific literature, the perpetuation of male domination in agriculture can be examined through the prism of divorce in particular. Based on two case studies drawn from a press review (in the daily Ouest-France), this article proposes research questions regarding the roles played by different types of capital and by context effects in the atypical nature of women farmers who have separated from their spouses yet have remained at the head of the family farms. Unlike other counterurbanites, they seem to have succeeded in thwarting certain gender norms in agriculture, despite enduring male domination.
En la literatura científica, la perpetuación de la dominación masculina en el área agrícola, se analiza, entre otros, con el prisma del divorcio. A partir de dos estudios de casos en una rueda de prensa (en el diario Ouest-France), este articulo propone cuestiones de investigación respecto a los roles de diferentes clases de capitales y de los efectos de contextos en la atipicidad de agricultoras separadas de sus parejas y que permanecen como responsables de la explotación familiar. Contrariamente a otras neo rurales, parece que consiguen superar algunas normas de género en el área agrícola, pese a una dominación masculina que perdura.
Dans la littérature scientifique, la perpétuation de la domination masculine en agriculture s'analyse notamment au prisme du divorce. À partir de deux études de cas issues d'une revue de presse (dans le quotidien Ouest-France), cet article propose des questions de recherche quant aux rôles de différentes espèces de capitaux et des effets de contextes dans l'atypicité d'agricultrices séparées de leurs conjoints et qui demeurent à la tête de l'exploitation familiale. Contrairement à d'autres néorurales, elles semblent parvenir à déjouer certaines normes de genre en agriculture, malgré une domination masculine qui perdure.
Na literatura científica, a perpetuação da dominação masculina na agricultura é analisada em particular através do prisma do divórcio. Com base em dois estudos de caso de uma revista de imprensa (do jornal Ouest-France), este artigo propõe questões de pesquisa sobre os papéis dos diferentes tipos de capital e os efeitos de contexto na atipicidade das mulheres agricultoras separadas de seus cônjuges e que permanecem a frente à exploração agrícola familiar. Ao contrário de outros neorrurais, elas parecem ser capazes de combater certas normas de gênero na agricultura, apesar da persistência da dominação masculina.
在科研文献中,离婚是分析农业领域中持续的男性统治的重点话题。通过对一个报纸(法国西部日报Ouest-France)的两个文本分析案例,本文旨在研究与伴侣分开并继续作为家庭产业经营者的农业女性的非典型性,尤其是不同类型的资本在她们的经历中所扮演的角色,以及环境给她们带来的影响。和其他新农业女性不同,她们似乎在由男性统治的农业领域成功地抵御了性别规范对她们的一部分影响。
Fichier principal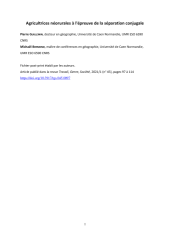 Agricultrices neo-rurales _Guillemin-Bermond_2021.pdf (802.93 Ko)
Télécharger le fichier
Origin : Files produced by the author(s)