Why do I hate all the female characters in 24?': An Etiology of 24's Misogyny
This article investigates the misogyny at work in Fox's hit series 24. Filled with stereotyped female characters, 24 seems to provide a univocal portrayal of women which spurs the viewers' misogyny. Still, 24's defiance towards women needs to be understood in the light of a particular context, the post-9/11 years, during which the Bush administration and conservative pundits targeted women as responsible for the 2001 terrorist attacks and fought a political and cultural 'War on Women'. Therefore, we may postulate that with the election of Barack Obama in 2008, America took a liberal turn which impacted television series, and 24 in particular. This may account for the more progressive later seasons of the show where female characters are no longer ascribed to secondary roles but become action heroines, acting directors of intelligence agencies and, for one of them, elected Commander in Chief.
Cet article analyse la misogynie à l'œuvre dans 24 heures chrono. Émaillée de personnages féminins stéréotypés, la série semble dresser un portrait des femmes univoque attisant les penchants misogynes des spectateurs. Cette tendance doit néanmoins être appréhendée à l'aune d'un contexte particulier, celui de l'après-11 Septembre. Durant cette période, l'administration Bush, assistée par de nombreux idéologues conservateurs, mena une « guerre contre les femmes » aussi bien politique que culturelle. L'élection du démocrate Barack Obama en 2008 vint temporairement mettre un terme à cette guerre et inaugura une période de renouveau des représentations genrées. Cela pourrait expliquer le virage progressiste opéré par 24 heures chrono lors de ses dernières saisons : jadis cantonnées à des rôles caricaturaux et secondaires, les femmes devinrent agent fédéral, directrice des agences gouvernementales, ou encore présidente des États-Unis.
Fichier principal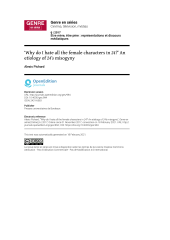 ges-994.pdf (274.79 Ko)
Télécharger le fichier
Origin : Publisher files allowed on an open archive