Publics policies in ICT field, a way to intercommunality learning ? The case of « Le Havre agglomeration »
Les politiques numériques, vecteurs d'apprentissage de la coopération intercommunale ?
This work examines the impact of ICT in the building process of intercommunality. The study examines the stakes and implications of extending the "Very-High-Speed Broadband Project" beyond its initial town-level application (Gonfreville l'Orcher) to include the entire metropolitan area of Le Havre. Qualitative analysis was prioritised by means of interviews with local representatives and inter-borough administrators and also with the IT technicians who worked on the initial project. The study has produced several important findings. The integration of ICT more and more frequently in the public affairs brings a new light on the institutionalization and even more, on the territorialisation of intercommunality. Whereas public transportation, culture, sport, economics and social affairs are constant policies, the ICT sector remains confidential for most of the public actors and is especially invested in a unequal way. Therefore, a township commitment on this issue offers leadership opportunities to the elect, but facilitates also the entry of entrepreneurs or political outsiders in the intercommunal scene. The hybrid status and volatility of ICT sets them as interface between three main key issues: political gain, creation of community solidarity, technical learning. Actors of intercommunality experience their commitment in ICT field around these three dimensions sometimes with moderate ambitions or cautious waiting. Finally, as ICT bring political, technical and territorial complexity as well as a real institutional creativity, it reveals and feeds dynamics around intercommunality governance.
Ce travail interroge l'inscription des Technologies de l'Information et de la Communication (TIC) dans le processus de construction intercommunale. Il focalise sur les enjeux et modalités de transfert à l'échelle de la Communauté de l'Agglomération Havraise (CODAH) d'un projet « Très Haut Débit » d'abord engagé à l'échelle communale (Gonfreville l'Orcher). L'analyse qualitative a été privilégiée via des entretiens auprès d'élus communautaires, de techniciens en charge du dossier TIC et de responsables administratifs intercommunaux (DGA, DGS). Plusieurs enseignements en ressortent. La convocation, de plus en plus fréquente, de cet objet dans les affaires communautaires éclaire d'un jour nouveau l'institutionnalisation et plus encore, la territorialisation de cet échelon. Tandis que la culture, le sport, l'économie ou les affaires sociales (…) sont des domaines d'intervention « traditionnels » à l'échelle locale, le secteur des TIC, bien qu'en progression constante, reste encore confidentiel pour la plupart des acteurs publics et surtout très inégalement investi. Dès lors, l'engagement d'une commune sur ce dossier offre à l'élu des opportunités de leadership mais facilite aussi l'entrée d'entrepreneurs ou d'outsiders politiques sur la scène intercommunale. Le statut hybride et la volatilité des TIC les placent en situation d'interface entre trois grands enjeux : des gains politiques à retirer, des solidarités communautaires à créer et des apprentissages techniques à formaliser. C'est autour de ce triptyque que s'éprouve l'engagement numérique intercommunal qui se nourrit d'ambitions modérées et d'attentisme prudent, d'élans collectifs et de replis communaux. Au final, le dossier numérique révèle et alimente les dynamiques qui structurent la gouvernance intercommunale, les TIC étant à la fois génératrices de complexité (politique, technique et territoriale) et de créativité institutionnelle.
Fichier principal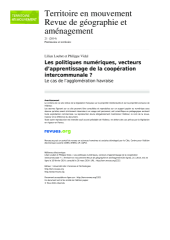 FINAL tem-2321-21-les-politiques-numeriques-vecteurs-d-apprentissage-de-la-cooperation-intercommunale-3.pdf (535.56 Ko)
Télécharger le fichier
Origin : Publisher files allowed on an open archive