Note sur le dessin du système de Copernic dans le manuscrit Kandilli 403
Kandilli 403 Yazmasındaki Kopernik Sistemini Temsil Eden Şekil Üzerine Not
The purpose of this note is to identify the source of a famous drawing of three cosmological systems, considered by many authors as the very first instance of heliocentrism in Islamic countries. Paradoxically, this drawing is included in a seventeenth-century manuscript containing a Turkish and Arabic version of the Nouvelle théorie des planètes by Noël Durret, a resolutely geocentric work. We demonstrate that the three figures are taken from the 1648 edition of Andrea Argoli's Ephemerides, a copy of which was reported in 1683 at an Istanbul scholar's house alongside Durret's book. The systems represented are those of Copernicus, Tycho Brahe and Argoli's own system.
Le but de cette note est d'identifier la source d'un célèbre dessin de trois systèmes cosmologiques, considéré par beaucoup d'auteurs comme la toute première occurrence de l'héliocentrisme dans les pays d'Islam. Paradoxalement, ce dessin est inclus dans un manuscrit du XVII e siècle contenant une version en turc et arabe de la Nouvelle théorie des planètes de Noël Durret, un ouvrage résolument géocentrique. Nous montrons que les trois figures sont extraites de l'édition de 1648 des Ephemerides d'Andrea Argoli, dont un exemplaire fut signalé en 1683 chez un érudit d'Istanbul aux côtés du livre de Durret. Les systèmes représentés sont ceux de de Copernic, de Tycho Brahe et le propre système d'Argoli.
Bu araştırma notunun amacı, birçok yazar tarafından İslam ülkelerine Güneş merkezli evren modelinin girişini temsil ettiği düşünülen ve üç meşhur kozmolojik sistemi temsil eden bir şeklin kaynağını belirlemektir. Çelişkili olarak, bu şekil, kesinlikle yermerkezli bir eser olan Noël Durret'nin Nouvelle théorie des planètes adlı eserinin Türkçe ve Arapça versiyonundan oluşan bir onyedinci yüzyıl yazmasının içinde bulunmaktadır. Biz burada, her üç şeklin de Andrea Argoli'nin Ephemerides adlı eserinin 1648 baskısından alındığını göstermekteyiz. Bu eserin bir nüshasının 1683 yılında, Durret'nin kitabıyla beraber, İstanbul'daki bir bilge kişide bulunduğa işaret edilmişti. Temsil edilen sistemler Kopernik, Tycho Brahe ve Argoli'nin sistemleridir.
Fichier principal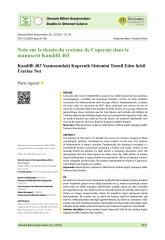 Kandilli 403 Yazmas__ndaki Kopernik Sistemini Temsil Eden __ekil __zerine Not[#561166]-752126.pdf (1.07 Mo)
Télécharger le fichier
Origin : Publisher files allowed on an open archive