Accès au(x) savoir(s) et quête du sens
The issues of access to the knowledge, the involvement of students in learning activities are both closely related and highly problematic. Access to knowledge is an attitude but also structuration (Astolfi et al., 1978). It is also a disposition (Lange, 2011b). Knowledge is envisaged in its epistemological dimensions, but also as a human construction. Therefore, it's a problem, an event and a meaning. Our article aims to examine various works dealing with students and their relationship to the subject (material, living, social...), it summarizes the activity in its two-sided dimension: social effectiveness and singular biography. We end by proposing a model of "quête de sens".
Les questions de l'accès au(x) savoir(s) et de la mobilisation des élèves dans les activités d'apprentissage sont à la fois très liées et éminemment problématiques. L'accès au savoir est une attitude mais aussi une structuration (Astolfi et al., 1978). Il relève également de dispositions (Lange, 2011b). Le savoir est envisagé dans ses dimensions épistémologiques, mais également comme construction humaine. Il est donc un problème, un événement, une signification. Notre article ambitionne de partir des mutations actuelles, d'examiner la quête du sens à la lumière de la confusion des valeurs, des domaines des savoirs et de l'indifférenciation du discours qui en découle. Ce travail de clarification, de « différenciation » prend appui sur différents travaux qui portent sur le sujet et son rapport à l'objet (matériel, vivant, social…). Il récapitule l'activité du sujet dans sa dimension biface : l'efficacité sociale et biographie singulière pour proposer une modélisation de la quête du sens.
Fichier principal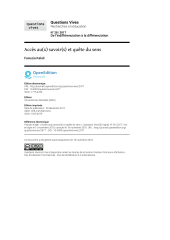 questionsvives-FK.pdf (400.49 Ko)
Télécharger le fichier
Origin : Files produced by the author(s)