Thersite, une figure de la démesure ?
We may speak of Thersites's hybris in Homer first because of his exceeding ugliness, characterized by a complete lack of balance and symmetry; secondly because of his shameless way of speaking; last but not least because, disregarding his own insignificance, he claims to speak Achilles's heroic language. In subsequent rewritings and commentaries of the Homeric episode, stress is laid on Thersites's buffoonery, untimely chattering, and aggressive attitude: he appears either as a seditious character, or as a braggart overestimating himself (cf. the Byzantine motif of the beauty contest against Nireus). As a matter of fact, very often, when Thersites's name is used as a term of abuse in blame literature, the Homeric hero is quoted in order to accuse the opponent of imposture, and the kind of person most frequently called a new Thersites is the mock scholar who claims to be what he is not: Thersites's hybris lies primarily there.
Si l'on peut parler d'hybris à propos du Thersite d'Homère, c'est d'abord en raison de l'excès de sa laideur, placée sous le signe du déséquilibre et de l'asymétrie ; en raison aussi de son insolence et de sa violence verbale ; mais, plus encore, parce que, méconnaissant son insignifiance, il prétend parler le langage héroïque d'Achille. Dans les réécritures et commentaires auxquels l'épisode homérique a donné lieu dominent l'insistance sur la bouffonnerie de Thersite, son bavardage intempestif, son comportement agressif : il est présenté tantôt comme une figure de séditieux, tantôt comme un fanfaron s'illusionnant sur son propre compte (cf. le motif byzantin du concours de beauté avec Nirée). Or, lorsque le nom de Thersite est utilisé en guise d'insulte dans la littérature d'invective, le motif le plus fréquemment invoqué pour citer le héros d'Homère est précisément l'accusation d'imposture, et le type psychologique le plus volontiers accusé de « thersitisme » est celui du pseudo-savant, qui prétend se faire passer pour autre qu'il n'est : en cela réside la principale démesure de Thersite.
Fichier principal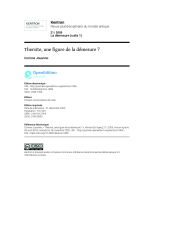 kentron-1806.pdf (539.6 Ko)
Télécharger le fichier
Origin : Publisher files allowed on an open archive