Réflexions sur pouvoir et démesure à Byzance
Byzantine monarchy may be defined as an autocracy of theocratic origin: the basileus was considered as God's representative – hence the part ceremonial played in underlining the emperor's sacred character. Nevertheless, several rituals existed in Byzantium to protect the basileus from hubris – rituals that reminded him of the transitory character of power and of his necessary subservience to the Almighty (uncrowning rite, memento mori, derision practices, mimesis Christou). The mirrors of princes express similar admonishing: they insist upon the emperor's human frailty and solidarity with other men, and put emphasis on the Christian virtue of humility. These texts show how much Byzantine political theory was influenced by Holy Scripture: the Bible was read as a repertory of models and counter-examples, with which contemporary events were to be compared, according to a typological interpretation of history, prone to see hubris as the main dividing criterion between good and bad people.
La monarchie byzantine, monarchie absolue, de caractère théocratique, passait pour émaner de Dieu même, d'où l'importance prise à Byzance par les cérémonies destinées à souligner la sacralité de l'empereur. Il existait néanmoins diverses parades rituelles visant à protéger le basileus contre la tentation de l'hybris, en lui rappelant la précarité du pouvoir et sa nécessaire soumission au Tout-Puissant (rite du découronnement, memento mori, conduites de dérision, mimesis Christou). Les miroirs des princes formulent d'identiques mises en garde, en insistant sur l'humaine fragilité de l'empereur, sur sa solidarité avec les autres hommes, et en valorisant par-dessus tout la vertu chrétienne d'humilité. On peut y observer l'influence profonde exercée sur la pensée politique des Byzantins par le texte de la Bible, considérée au Moyen Âge comme un répertoire de modèles et d'antimodèles, permettant d'évaluer l'histoire du présent, soumis à une interprétation typologique, qui fait bien souvent de la démesure la ligne de partage entre bons et méchants.
Fichier principal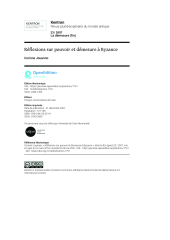 kentron-1751.pdf (791.71 Ko)
Télécharger le fichier
Origin : Publisher files allowed on an open archive