Controversia y "campo literario": lugares del arte, el compromiso, la nación y el mercado en los debates sobre literatura narrativa
As a communicative form connected with poetics, rhetoric and the literary arts, controversy may be defined as the public development of a battle of ideas where words have the leading role. Controversial tones and language naturally infiltrate into several kinds of text, regardless of their inclusion in any given debate. Controversy can also be understood as a socialization device in order to facilitate the expression of opinions and ideas. Controversial texts become extremely useful for literary history if considered as examples of the writer's struggle to establish his own voice, before those of his predecessors (and contemporaries) in the center of the "literary field". A series of polemical texts dealing with the nature and uses of narrative will be examined from this perspective in order to illustrate the recurrence of several arguments and critical loci (such as the market, nation, art and commitment), beginning with Galdós and continuing to the present.
Entendida como forma de comunicación y en íntima conexión con las artes poéticas, literarias y retóricas, la controversia puede entenderse como el desarrollo público de una lucha de ideas protagonizada esencialmente por palabras. Lenguaje y tono controversiales se filtran con facilidad en muchos tipos de texto, con independencia de su adscripción a una discusión concreta. La controversia se convierte así en un dispositivo de socialización que facilita la expresión de opiniones. Los textos controvertidos son útiles en diacronía literaria vistos como índices de la pugna del escritor para situar la propia voz, frente a la de predecesores (o a la de contemporáneos), en el centro del «campo». Partiendo de Galdós, se revisan desde esta óptica una serie de textos controversiales acerca de la naturaleza y los usos de novela y narración, para mostrar la recurrencia de ciertos lugares críticos o fuentes argumentativas (el mercado, la nación, el compromiso y el arte) en sucesivas discusiones, hasta nuestros días.
En tant que forme communicationnelle en lien avec les arts poétiques, littéraires et rhétoriques, la controverse peut être comprise comme le développement public d'une lutte d'idées dont le premier rôle échoit essentiellement aux mots. Aussi est-elle devenue un dispositif de socialisation qui facilite l'expression des avis, raison pour laquelle le langage et le ton de la controverse inflitrent aisément plusieurs types de texte, en toute indépendance de leur appartenance à une polémique précise. Les textes controversés sont également utiles en diachronie, en vue de l'établissement d'une périodisation littéraire en fonction de la lutte de l'écrivain pour situer sa voix, face à celle de ses prédécesseurs (ou de ses contemporains) au centre du « champ ». Est passée en revue selon cette perspective une série de textes à controverse autour de la nature et des usages du récit, dans le but de montrer la récurrence des lieux critiques d'argumentation (le marché, la nation, l'art et l'engagement) dans des discussions successives, de Galdós à nos jours.
Fichier principal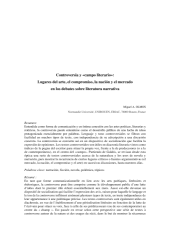 Olmos_Controversia_y_campo_literario_CREC_2019.pdf (257.86 Ko)
Télécharger le fichier
Origin : Files produced by the author(s)