From in the light I touched the light
In the collaborative graphic novel Ever, writer Blake Butler and visual artist and writer Derek White explore the various forms of interaction between text and image to open out the possibilities of meaning and representation. Indeed text and image carry each other beyond their own limitations through a fertile dynamics of mutations, aptly reflecting what happens in the story. As the protagonist gropes her way through the ceaselessly shifting volumes of a prison-house, her body undergoes ceaseless transformations and distortions, bringing to mind Francis Bacon's works. Gilles Deleuze's analyses of the figure in Francis Bacon — and of its interactions with the background — are used to shed light on what happens to language in its relation to images in Butler's Ever. While the reader is drawn towards a sensory form of reading, Blake Butler's writing of obsession allows an exploration of the text as a medium and calls for a questioning of the very conditions of the possibility of writing.
Dans le roman collaboratif Ever, l'écrivain Blake Butler et l'écrivain et artiste visuel Derek White explorent les diverses formes d'interaction possibles entre texte et image, pour étendre le champ du sens et de la représentation. En effet, le jeu du texte et de l'image repoussent les limites respectives de chaque médium, grâce à une fertile dynamique de mutation, également à l'œuvre dans la diégèse. Tandis que la protagoniste erre dans les volumes changeants d'une demeure dans laquelle elle semble emprisonnée, son corps subit d'incessantes transformations et distorsions, qui rappellent l'œuvre de Francis Bacon. Les analyses de Gilles Deleuze sur la figure chez Francis Bacon, et ses interactions avec le fond ou l'arrière-plan, sont utilisées ici pour éclairer les rapports tissés dans Ever entre image et langage, ainsi que leurs effets. Tandis que le lecteur est conduit à adopter un mode de lecture plus sensoriel qu'intellectuel, l'écriture de l'obsession pratiquée par Blake Butler permet d'explorer les potentiels du médium textuel et de remette en question les conditions mêmes de possibilité de l'écriture.
Fichier principal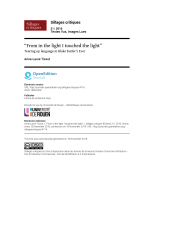 sillagescritiques-4716.pdf (838.64 Ko)
Télécharger le fichier
Origin : Publisher files allowed on an open archive