"Franciosi", peuple de barbares : le regard des lettrés et des ambassadeurs italiens sur la nation française à travers le prisme des Guerres d'Italie
This article proposes to look at some different accounts of the anti-French sentiment common in Italy in the 16th century and expressed by several writers and diplomats in the Peninsula. Due to the condition of persistent instability, during the long and bloody years of conflicts (1494-1559), the political and literary agents of the Italian States deeply condemned the acts and the manners of whom they considered as cruel and brutal invaders. Furthermore, the troops' violence in the battlefields had an effect on the Italian opinion of French nation in general terms.
L'article propose un tour d'horizon de différents textes, dans lesquels nombre de lettrés et de diplomates italiens du XVIe siècle témoignent d'un fréquent sentiment anti-français. En effet, la condition d'instabilité permanente, subie pendant de longues et sanglantes années de conflit (1494-1559), amène les représentants politiques et littéraires des potentats italiens à jeter un regard critique sur ceux qui sont considérés comme des envahisseurs cruels et brutaux. La violence des troupes sur les champs de bataille influence, en outre, l'opinion que ces observateurs ont du peuple français de façon générale.
L'articolo si propone di dare uno sguardo a diversi testi di letterati e diplomatici italiani del XVI secolo che testimoniano un diffuso sentimento antifrancese. La condizione d'instabilità permanente subita durante lunghi e sanguinosi anni di conflitto (1494-1559) condusse i rappresentanti politici e culturali dei potentati italiani a condannare quelli che furono considerati come degli invasori crudeli e brutali. La violenza delle truppe sul campo di battaglia, inoltre, influenzò l'opinione che tali osservatori nutrirono per il popolo francese più in generale.
Fichier principal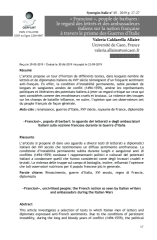 Caldarella Allaire Franciosi peuple de barbares.pdf (305.96 Ko)
Télécharger le fichier
Origin : Files produced by the author(s)