Are local banks special ?
Services bancaires de proximité : les banques locales sont-elles spéciales ?
Local banks have a small size and offer a limited scope of services. Being located near their customers (individuals, small and medium size firms) is their main, or even single competitive edge. Location factors are usually viewed as the core explanation of local banks' market power and differentiation advantages. This paper puts forward another explanation for differentiation : the bank's reputation (defined as the capability to offer high quality services and to raise confidence, thus allowing for long lasting customer relationships). The paper examines successively proximity and reputation, and then articulates these two concepts, in order to identify the specificity of local banking.
La banque locale est une banque de petite taille et au rayon d'action limité, qui a pour principal voire unique atout, sa proximité géographique avec une clientèle de particuliers et de petites et moyennes entreprises. Traditionnellement, le pouvoir de marché de la banque locale s'explique par des facteurs de localisation et des situations de voisinage, qui sont un atout majeur de différenciation. Ce texte met en avant un second axe de différenciation de la banque locale : la réputation, c'est-à-dire l'aptitude à offrir des services de qualité et à susciter la confiance permettant la construction de relations de clientèle de long terme. À partir d'un examen approfondi des concepts centraux de proximité (physique, relationnelle) et de réputation, le texte en analyse l'articulation, et reconnaît dans la conjugaison des effets de localisation et des effets de réputation la spécificité de la banque locale.
Fichier principal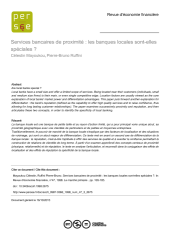 ecofi_0987-3368_1998_num_47_3_2675.pdf (1.68 Mo)
Télécharger le fichier
Origin : Publisher files allowed on an open archive