Expériences carcérales et traductions picturales. Le témoignage du peintre et objecteur de conscience Didier Poiraud durant et après la guerre d'indépendance algérienne (1961-1964)
The Algerian War has long been considered a "war without images", owing to a combination of state censorship and the self-censorship of artists themselves. However, recent research has revealed numerous art works preserved thus far in the privacy of personal archives. This article follows the trajectory of a conscientious objector, member of the Non-violent Civic Action group, whose detention drawings depict his everyday life as an inmate in several prisons and camps. Pursued and arrested for illegal protest, disobedience, and desertion, this artist-objector was detained and incarcerated eleven times at various detention sites in France. Didier Poiraud's experiences shed light on the conditions under which wartime artwork can emerge and on the detention conditions faced by conscientious objectors. By carefully observing his drawings - shown here for the first time - and by analyzing them in the context of their production, we gain a better understanding of the relentless and arbitrary repression to which conscientious objectors were subjected during the Algerian War. Through his artwork, resistance in prison can be reinscribed within a larger fight that not only contested the decolonisation war but also led to the reformation of the military service.
La guerre d'Algérie a longtemps été considérée comme une guerre sans images, du fait de la censure d'État et de l'autocensure des artistes. Pourtant, ces dernières années, des œuvres d'art émergent, longtemps conservées dans le secret des archives personnelles. Cet article suit le parcours carcéral d'un objecteur de conscience, membre de l'Action civique non-violente, qui a réussi, en détention, à dessiner sa vie quotidienne. Cet objecteur-artiste a connu de très nombreux lieux de détention : poursuivi et arrêté pour manifestation interdite, insoumission, refus d'obéissance et désertion, il a été détenu à onze reprises dans divers sites carcéraux (prisons, camps et casernes) en France. C'est un double voile qui se lève, sur des œuvres nées de la guerre comme sur les conditions de détention des objecteurs de conscience. En effet, en observant attentivement les œuvres de Didier Poiraud – montrées ici pour la première fois – et en les replaçant à chaque fois dans leur contexte de production, on perçoit mieux l'acharnement répressif et l'arbitraire de la détention qu'il a pu connaître, à l'instar d'autres objecteurs. Grâce à l'art, la résistance en prison est réinscrite dans une lutte qui a non seulement servi à contester la guerre d'Algérie mais qui a aussi permis de réformer le service militaire.
Fichier principal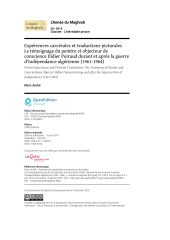 anneemaghreb-4940.pdf (1.07 Mo)
Télécharger le fichier
Origin : Publisher files allowed on an open archive