Panorama des altérations limbiques cornéennes
The corneal limbus is a privileged region on the border between two quite different microenvironments, where corneal epithelial stem cells, numerous melanocytes, and antigen-presenting cells are all concentrated within a richly vascularized and innervated stroma. This situation within the ocular surface confers on it the key functions of barrier, epithelial renewal and defense of the cornea. As an immunological crossroads and since the corneoscleral limbus is directly exposed to external insults such as caustic agents, ultraviolet radiation, microbial agents, and allergens, it is the potential site of many tumoral, degenerative or inflammatory pathologies and may progress under certain conditions to limbal stem cell deficiency.
Le limbe cornéoscléral est une région privilégiée, frontière entre deux environnements tout à fait différents, où se concentrent tout à la fois les cellules souches épithéliales de la cornée en surface et de nombreux mélanocytes ainsi que les cellules de Langerhans présentatrices d'antigène au sein d'un stroma richement vascularisé et innervé. Cette situation au niveau de la surface oculaire lui confère des fonctions clés de barrière, de renouvellement épithélial et de défense de la cornée. Véritable carrefour immunologique et directement exposé aux agressions extérieures (agents caustiques, rayonnement ultraviolet, agents microbiens, allergènes …), il est le siège potentiel de très nombreuses pathologies tumorales, dégénératives ou inflammatoires et peut évoluer dans certaines conditions vers le syndrome de déficit en cellules souches limbiques.
Fichier principal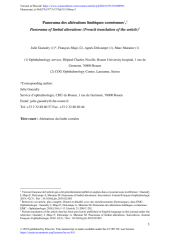 S0181551219300993.pdf (9.65 Mo)
Télécharger le fichier
Origin : Files produced by the author(s)