Read and read again "The Wonderful adventures of Nils"
Lire et relire "Le merveilleux voyage de Nils Holgersson à travers la Suède"
Le Merveilleux voyage de Nils Holgersson à travers la Suède est en France souvent à tort considéré comme un livre uniquement pour enfants. Cet article tente de mettre en évidence la complexité du roman de Selma Lagerlöf, son réalisme magique, sa métafiction, ainsi que l'analyse psychologique de Nils. L'œuvre contient un message écologique qui n'a pas perdu de son actualité. L'auteur est certes optimiste et croit en l'avenir, son livre est aussi une mise en garde. Si ce tour de la Suède a placé le pays sur la carte internationale, il a également façonné l'image qu'ont les Suédois d'eux-mêmes, mais ce récit identitaire ne devient pas pour autant un manifeste nationaliste. La leçon qu'il faut en tirer est un sentiment communautaire, l'envie de travailler pour le bien de tous dans un esprit de solidarité et en harmonie avec la nature.
Fichier principal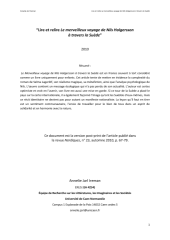 Lire et relire Le merveilleux voyage de Nils Holgerrson version post-print.pdf (1.23 Mo)
Télécharger le fichier
Origin : Files produced by the author(s)