Étude du séchage naturel des sédiments du port de Dunkerque en vue de valorisations ultérieures
Dredging operations play an essential role in the economy, the environment and the development of a region. These operations generate large volumes of sediments that become waste when they are land managed. These high water content sediments pose problem for its transport and its reuse or storage. From the environmental and economic perspective, natural drying is the best dewatering method. In order to optimize this technique, this present study explains how to determine dewatering ability criteria by the use of laboratory tests. For that, dewatering test is performed on harbor sediments of Port of Dunkirk. Results are discussed and undrained shear strength versus liquidity index relation is proposed.
Les opérations de dragage engendrent d'importants volumes de sédiments qui deviennent des déchets dans leur gestion à terre. Du fait que ces sédiments ont de hautes teneurs en eau, ils posent des contraintes dans leur transport, dans leur valorisation et/ou leur stockage. Le séchage naturel présente une alternative économique et acceptable du point de vue environnemental. Afin d'optimiser cette technique de déshydratation, des critères d'aptitude au séchage naturel des sédiments sont déterminés à l'aide d'essais en laboratoire. Une synthèse des résultats issus de l'essai d'égouttage-séchage et de l'essai scissométrique, en utilisant des sédiments marins du Port de Dunkerque est présentée et la relation de la cohésion non drainée en fonction de l'indice de liquidité est discutée.
Fichier principal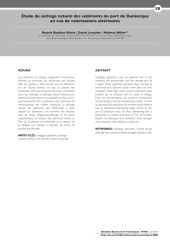 dst_2019__80_06_boullosab.pdf (1.61 Mo)
Télécharger le fichier
Origin : Publisher files allowed on an open archive