Révoltes d'hier et d'aujourd'hui : Situations politique et sociale dans le "Kitāb al-Imtāʿ wa-l-muʾānassa" d'Abū Ḥayyān al-Tawḥīdī
Following the recent events, manifestations and revolutions which that the Arab world is undergoing, the present work is an attempt to focus on a certain stage of the Arabic Middle Age period situated in during the 4th/10th century. Thus, this article aims at bringing into light-through a well known Classical work, the Kitāb al-Imtāʿ wa-l-muʾānasa - revolutions, rebellions and unstable periods that are, according to Abū Ḥayyān, the results of incompetence, irresponsibility, of corrupted practices from politicians and their entourage. That iswhy the art of chosing the wisest counsellors must be mastered by the governor.
A l'occasion des évènements, manifestations et révolutions que vivent les pays arabes, le présent travail tente d'évoquer une période de l'époque médiévale arabe qui se situe au IVe /Xe siècle. Cet article cherche à mettre en avant à travers un ouvrage classique célèbre, le Kitāb al-Imtāʿ wa-l-muʾānasa, les révoltes, les rébellions et les instabilités qui sont, selon Abū Ḥayyān, les résultats de l'incompétence, de l'irresponsabilité, de la corruption des hommes politiques et de leur entourage. C'est pourquoi l'art de bien choisir les hommes doit être maîtrisé par le gouverneur.
Fichier principal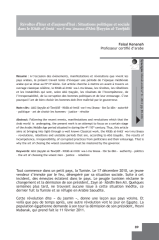 Révoltes d'hier et d'aujourd'hui (Synergies 2011).pdf (428.67 Ko)
Télécharger le fichier
Origin : Publisher files allowed on an open archive