A propos de "behind" et "after"
In this paper, the author sets out a formal representation of the prepositions after and behind which can be integrated into a larger system of representation applicable to all the markers of this category. The model is based on some of the metalinguistic concepts of the "Théorie des Opérations Enonciatives". Its main characteristic is to refuse to give priority to spatiality but rather to propose a system of schematization abstract enough to account for the different values of the prepositions without having to resort to such concepts as metaphor or the like.
Dans cet article, l'auteur propose une représentation formelle des prépositions after et behind susceptible de s'intégrer dans un modèle plus vaste applicable à l'ensemble des marqueurs de cette catégorie. Ce modèle est basé sur certains des concepts métalinguistiques de la Théorie des Opérations Enonciatives, et a pour principale caractéristique de refuser la primauté du spatial en lui préférant un système de schématisation suffisamment abstrait pour pouvoir rendre compte des différentes valeurs des prépositions sans avoir recours à des concepts comme celui de la métaphore.
Fichier principal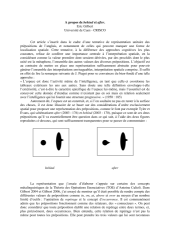 AfterBehind1.pdf (212.86 Ko)
Télécharger le fichier
Origin : Files produced by the author(s)