Confiteor, le retour à soi dans "Les Confessions" de saint Augustin
Compared to reflective conception of the return to oneself inherent to the philosophy of the subject, as being developed from Hegel to Ricoeur, and which seeks to overcome the dispersion of temporal life by self-construction in the unity of a story, Augustine offers another understanding of selfhood, which does not fall into difficulties of egological centration nor into difficulties of current antihumanism. Personal story with facticity and finitude can only find its unity and sense outside itself, in a quest for the truth which enlightens it. The inner self for Augustine is not to be related to Neoplatonism purification, because the point is not about finding a place in the cosmos. For Augustine being oneself is being freed from all forms emanating from the world while struggling inwardly between the burden of concupiscence and the patient wait of real goods. Humility, patience and love are the true acts of the inner self.
Par rapport à la conception réflexive du retour à soi propre à la philosophie du sujet telle qu'elle se développe de Hegel à Ricœur et qui cherche à surmonter la dispersion de la vie temporelle par une formation de soi dans l'unité d'une histoire, saint Augustin nous donne à penser une autre figure de l'ipséité qui permet d'échapper aux apories de la centration égologique comme à l'antihumanisme de ses contestations. L'histoire personnelle dans sa finitude et sa facticité ne peut trouver son unité et son sens qu'en dehors d'elle, dans un retour à la vérité qui illumine. Le soi selon saint Augustin ne se laisse pas comprendre par rapport au projet néoplatonicien de purification, car il ne s'agit pas de trouver une place dans le cosmos, mais de se libérer de toute forme venant du monde dans un combat intérieur entre le poids de la concupiscence et l'attente patiente des biens véritable. L'humilité, la patience et l'amour sont les actes du soi véritable.
Fichier principal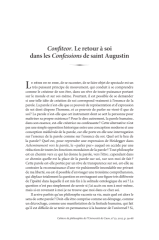 Housset_N52 Confiteor.pdf (1.74 Mo)
Télécharger le fichier
Origin : Explicit agreement for this submission