Nature et mode d'action des bandes armées vikings : quelques réflexions sur la seconde moitié du IXe siècle
This article focuses on the composition, the training conditions, and the functioning of armed Viking groups during the raids of the second half of the 9th century, attempting to follow them along maritime (and land) routes in order to determine their origins and to follow certain individuals. These groups, small in size, sometimes joined together with others to form larger armies, such as the « Great Army » that devastated England starting in 865. The organisation of these groups and the nature of the sources, however, make it difficult to reconstruct their movements.
Cet article s'intéresse à la composition, aux conditions de formation et au mode de fonctionnement des bandes armées vikings durant les raids de la seconde moitié du IXe siècle, en se demandant s'il est possible de suivre ces bandes le long des routes maritimes (et parfois terrestres), de déterminer leur origine et de suivre certains individus. Ces bandes ou troupes, unités de taille restreinte, pouvaient s'agréger pour former des armées plus importantes, comme par exemple la « Grande Armée » qui ravage une partie de l'Angleterre à partir de 865. La structure même de ces groupes et la nature des sources rendent cependant très délicate la reconstitution de leurs déplacements.
Fichier principal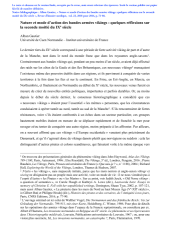 Gautier - Bandes armees vikings.pdf (346.02 Ko)
Télécharger le fichier
Origin : Files produced by the author(s)