Privatisations du patrimoine public et politiques économiques
To reduce the theory of privatization to that of denationalization is conceptually incorrect. Beyond a simple transfert of property privatization, in its broadest sense, may be considered as a multifaceted phenomen of assimilation or even of assistance (under the aegis of the State) of public ownership to private sector. This extended approach becomes indispensable if one attempts to achieve a bette understanding of the processes of privatization which have been developing in liberal economies since the last world war. It leads to the refutation of the theory that privatizations have been following a uniform and convergent path on the international stage. It also demontrates the existence of different periods, during which privatizations were affected by structural changes and in particular by economic policy trends.
Ramener l'étude des privatisations à celle des dénationalisations relève de l'erreur conceptuelle. Audelà du simple transfert de propriété, la privatisation est, au sens large, un phénomène d'assimilation ou même de soutien (sous l'égide de l'État) du patrimoine public au secteur privé. Cette approche élargie s'avère indispensable si l'on entend appréhender correctement les processus de privatisation qu'ont connu les économies libérales depuis l'après-guerre. Elle conduit à récuser les thèses selon lesquelles il y aurait uniformité et convergence sur le plan international. Elle permet également de mettre en lumière l'existence de phases de privatisation différenciées qu'il convient d'associer aux mutations structurelles et surtout aux orientations de politique économique.
Fichier principal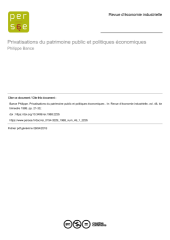 rei_0154-3229_1988_num_46_1_2235.pdf (1.1 Mo)
Télécharger le fichier
Origin : Publisher files allowed on an open archive