Social inequalities in health from observational studies to intervention: can the patient navigator reduce social inequalities in cancer patients?
Inégalités sociales, de santé du constat à l'action – Intérêt de la mise en place d'un accompagnement personnalisé pour la réduction des inégalités sociales en cancérologie
The impact of social factors on healthcare inequality is well-recognized in many industrialized countries and involves a wide range of pathological conditions (cardiovascular disease, cancer, etc.). In general, the poorest indicators of health are observed in socially disadvantaged populations. Beyond this observation is the question of actions taken to prevent the formation ofsocial inequality in healthcare. The purpose of this work was to evaluate the potential contribution of an intervention tool called the ''patient navigator'', used in English-speaking countries and to determine its feasibility in France
Des inégalités sociales de santé ont été rapportées dans l'ensemble des pays industrialisés et pour un très grand nombre de pathologies (maladies cardiovasculaires, cancers, etc...). Les patients issus des milieux les plus défavorisés présentent généralement les plus mauvais indicateurs de santé. Au-delà du constat se pose dès lors la question des moyens d'action permettant de lutter efficacement contre la formation des inégalités sociales de santé. L'objectif de cet article est d'étudier l'intérêt potentiel d'une méthode de lutte contre les inégalités sociales en cancérologie, couramment dénommée « patient navigator » dans les pays anglosaxons (accompagnateur d'un patient en français) et d'évaluer la faisabilité de sa mise en place en France.
Fichier principal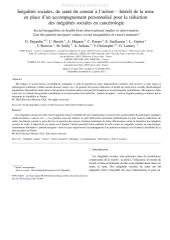 RESPE word.pdf (356.85 Ko)
Télécharger le fichier
Origin : Files produced by the author(s)