L'exil des affections pures. À propos d'une formule d'Ovide et de sa reprise biranienne
The aim of this article is to examine in the thought of Maine de Biran the tenor and meaning of a phrase borrowed from Ovid (also taken over by Montaigne and Rousseau): vivit, et est vitae nescius ipse suae ("he is alive, yet is himself unconscious of his own life"). This examination furnishes a pretext for approaching Maine de Biran's theory of sensibility, especially the system of internal, pure and unsituatable affections, which conspire to form the temperament, to which we are almost entirely blind, although they do not cease to tinge our conscious life, and reverberate in the individual's psychic life. Should one speak of the scission of Maine de Biran's subject? The problem is to surprise and name the passage, the transition. But can the ego catch its own disappearance by surprise? The formula invited by Biran to point to this kind of approach — that of internal touch or affective touch — must be contrasted with active touch, and it is necessary to realise that music furnishes the model for the sympathy proper to the affective life. (Transl. by J. Dudley).
II s'agit d'examiner, dans la pensée de Maine de Biran, la teneur et le sens d'une formule empruntée à Ovide (reprise elle-même par Montaigne et Rousseau): vivit, et est vitae nescius ipse suae (« il vit, et il est lui- même inconscient de sa propre vie »). Cet examen fournit le prétexte pour approcher la théorie biranienne de la sensibilité et en particulier le régime des affections intérieures, pures, illocalisables, lesquelles conspirent à former le tempérament sur lequel notre aveuglement est quasi complet, bien qu'elles ne cessent de teindre notre vie consciente, et résonnent dans la vie psychique individuelle. Doit-on parler de scission du sujet biranien ? Le problème est de surprendre et dire le passage, la transition. Mais le moi peut-il surprendre sa propre disparition ? La formule qu'invente Biran, pour désigner un tel mode d'approche - celle de tact intérieur ou tact affectif - doit être opposée au toucher actif, et il faut comprendre que de la sympathie propre à la vie affective, la musique fournit le modèle.
Fichier principal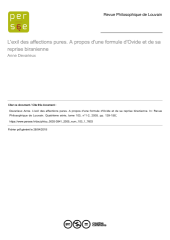 phlou_0035-3841_2005_num_103_1_7603(1).pdf (1.39 Mo)
Télécharger le fichier
Origin : Explicit agreement for this submission