The virtual classroom synchronous and distance learning pose new challenges for teachers
La classe virtuelle synchrone une substitution médiatique de l'enseignant pour renforcer la présence en formation à distance ?
This paper study an educational ICT context : the virtual classroom. We interviewed and observe blended learning teachers questioning their pédagogical praticices and role. The two main foci are: First, the virtual classroom is used as a space for visual representation. What pedagogy will be use by teacher? Second, the virtual classroom is a blended learning communication device. Should we think it to be a learning or a socializating space?
L'introduction de l'utilisation de classes virtuelles synchrones en enseignement supérieur n'est pas sans interroger la relation pédagogique qui en résulte et les évolutions du rôle de l'enseignant face à une nouvelle forme de dispositif de communication médiatisée. Après avoir interrogé la socialisation de la classe virtuelle par la métaphore utilisée, nous questionnons l'émancipation du diktat de la distance par la recherche de la présence en formation à partir des pratiques instrumentées. Des questions anciennes de « téléprésence » à celles actuelles de la « présence à distance », cette recherche interroge dans le recours à la classe virtuelle synchrone, le rôle de l'action et de la médiation de l'enseignant en vue de favoriser le passage vers l'apprentissage. Elle s'appuie à la fois sur des entretiens et l'analyse d'observations d'enregistrements de classes.
Fichier principal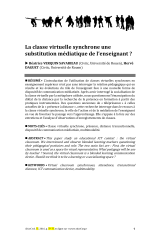 STICEF 2016 Dépôt HAL SAVARIEAU DAGUET.pdf (900.12 Ko)
Télécharger le fichier
Origin : Files produced by the author(s)