Bartolomeo Borghesi, Theodor Mommsen et l'edition des inscriptions de Pirro Ligorio dans le Corpus Inscriptionum Latinarum ( CIL )
When Theodor Mommsen sent to the Academy of Sciences in Berlin his plan for the publication of a corpus of Latin inscriptions (cil) in 1847, he was aware of the problems that had arisen due to forgeries, and especially those attributed to Ligorio, who was considered the greatest forger of all time in epigraphy. This article explores for the first time the genesis of the publication of the 'falsae ligorianae' in cil, recalling first the existence, often forgotten, of a first project of a cil entrusted to Olaus Christian Kellermann under the unofficial direction of Borghesi; through their correspondence they formulated the methodological principles which would be followed in the second project of a cil after Mommsen had taken the decision to create a specific category of inscriptions 'falsae vel dubiae'; the German scholar thus provided for future generations a material that remains little explored in the field of epigraphy.
Au moment d'envoyer à l'Académie des Sciences de Berlin son plan pour l'édition d'un Corpus des inscriptions latines (cil) en 1847, Théodor Mommsen (1817–1903) a conscience du problème que posent les fausses inscriptions et notamment celles attribuées à Pirro Ligorio (1512–1583), considéré comme le plus grand faussaire en épigraphie de tous les temps. Le présent article explore pour la première fois la genèse de l'édition des 'falsae ligorianae' dans le cil en rappelant d'abord l'existence, trop souvent oubliée, d'un premier projet de cil confié à Olaus Christian Kellermann sous la direction officieuse de Bartolomeo Borghesi (1781–1860); à travers leur correspondance s'élaborent les principes méthodologiques qui seront mis en oeuvre dans le second projet du cil après que Mommsen ait pris la décision de créer une catégorie d'inscriptions consacrée aux 'falsae vel dubiae'; le savant allemand mettait ainsi à la disposition des générations futures un matériel encore trop souvent écarté de la recherche historique.
Fichier principal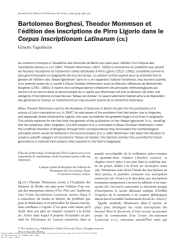 Borghesi.pdf (3.24 Mo)
Télécharger le fichier
Origin : Publisher files allowed on an open archive