L'influence des attentes sociales liées au sexe dans le jugement moral enfantin et l'attribution d'émotions
This study has been carried among 5-to-10-year-old children and students to determine in a psychosocial perspective, the links between moral judgment and emotion. The subjects were asked to assess the importance and legitimacy of different transgressions, and to attribute emotion to the violators. Two factors were taken into consideration: the sexual identity of the target and the nature of the transgression (omission of prosocial act/antisocial act). The results showed significant effects according to age and sex. We note that the « happy victimizer » phenomenon is essentially present among students and that attribution of emotion is independent of moral judgment.
La présente recherche, réalisée auprès d'enfants âgés de 5 à 10 ans et d'étudiants, examine dans une perspective psychosociale, les liens entre jugement moral et émotion. Les sujets devaient évaluer la gravité et le caractère légitime ou illégitime d'actes problématiques et indiquer l'émotion des auteurs de ces actes. On a tenu compte de deux variables : le sexe de l'acteur et la nature de l'acte problématique (non réalisation d'un acte prosocial/réalisation d'un acte antisocial). Les résultats mettent en évidence des effets significatifs liés à l'âge et de façon moindre au sexe des sujets. On note également la présence d'un phénomène d'"happy victimizer" (d'agresseur heureux) chez les étudiants et l'absence de lien entre l'évaluation morale et l'attribution d'émotions.
Fichier principal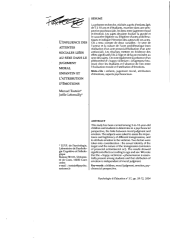 2004 Psy et éducation Tostain L'influence des attentes sociales liés au sexe.pdf (410.23 Ko)
Télécharger le fichier
Origin : Explicit agreement for this submission