Le Roman de Durtal de Joris-Karl Huysmans : une autofiction?
Là-Bas, En Route, La cathédrale et L'Oblat make up a tetralogy which finds its unity in the character of Durtal. Huysmans relates the different steps toward conversion in a work of fiction. We thus consider the Cycle de Durtal as an autofiction before its time, even though the author's and the character's name are different. Huysmans' projetc fits Serge Doubrovsky. Indeed, Huysmans stages his own personality and episodes of its life, in an approach which consists at the same time in understanding his conversion and in renewing the genre of the novel. He takes himself as a subject of study, in an 'adventure of language' which he calls 'spititualistic naturalism'. In his loyalty to decadent aesthetics, Huysmans mixes his life and his work, and projects himself in his narrative thanks to novelistic elements which he blends which non-fictionnal ones. He therefore creates a mirros-like work in which he establishes a game of superimposition between the autor, the narrator and the character which is reprsentative of the writing of the self.
La tétralogie du Roman de Durtal trouve son unité dans le personnage principal à travers lequel Joris-Karl Huysmans retrace les étapes de sa conversion, dans une oeuvre de fiction, composant ainsi une autofiction. Sa démarche d'écriture correspond à celle de Serge Doubrovsky, qui a théorisé le concept d'autofiction à partir de 1977. J-K. Huysmans met en scène sa personnalité et certains épisodes de sa vie, dans l'objectif de comprendre sa conversion, de l'accomplir, et de renouveler le genre romanesque. Il se prend lui-même comme objet d'étude, dans une "aventure du langage", qu'il nomme le Naturalisme Spiritualiste. Fidèle à l'esthétique décadente, il mêle sa vie et son oeuvre et se transpose dans ses récits à travers le personnage Durtal et à l'aide d'éléments romanesques et d'éléments de non-fiction. Il crée ainsi une oeuvre-miroir de sa conversion, instaurant un jeu de reflets entre l'auteur, le narrateur et le personnage, représentatif des écritures de soi.
Fichier principal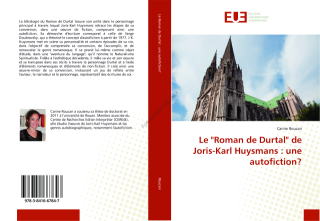 Le Roman de Durtal_une autofiction_Roucan.pdf (24.02 Mo)
Télécharger le fichier
Origin : Explicit agreement for this submission