Nobility in Normandy during 19th century : Sociological and political character of the old regime Order's members and their integration in French Nation.
La noblesse de Normandie au XIXème siècle. : Du comportement socio-politique des membres de l'ancien Ordre et de son intégration au sein de la Nation.
The history of the nobility during the 19th century is a historiographical field less strudied by historians. The first of them were the one of David Higgs. Previously, the history of the post-revolutionary nobility was always envisaged as part of elites hystory, such as established by Louis Bergeron and Guy Chaussinand-Nogaret. To envisage the nobility of the specific subject 19th, it is necessary to exceed the balance assessment raisedby Karl Marx and Jean Jaures who wanted to see in the nobility the expression of a calcified society, which has disappeared during the revolutionary events.The first point to be solved is to find a definition of the nobility which allows to establish basis of not ambiguous work. So, the nobility of the 19th century is not any more the one of the Ancien Régime.It is not any more protected by statutes and privileges which she wished herself to rease. Consequently the nobility consists of men and women who have an ethnological consciousness to belong to a group having values and similar behavior.The geographical frame of the search is widened to the set of five Norman departments in order to find and follow the senses of identity of the nobility as well as the influence of bordering Paris.The period extends from 1789 till 1910 to seize all the variations of the political influence of the Norman nobility. The impact of each of the revolutions as well as the role of the nobility in the emergence of the revolutionary movements so enter the field of the study.In a related way will be envisaged the economic and intellectual influences of the nobility, in particular its role on the plans of railroads or on the Société des Antiquaires de Normandie.
L'histoire de la noblesse au cours du XIXeme siècle est un champ historiographique peu exploité par les historiens français. La première grande étude étant celle de David Higgs. Auparavant, l'histoire de la noblesse post-révolutionnaire a toujours été envisagée comme partie de l'histoire des élites telles qu'établie par Louis Bergeron et Guy Chaussinand-Nogaret. Pour envisager la noblesse du XIXeme sujet spécifique, il faut dépasser le bilan dressé par Karl Marx et Jean Jaures qui ont voulu voir dans la noblesse l'expression d'une société sclérosée disparue au cours des événements révolutionnaires.Le premier point à résoudre est de trouver une définition de la noblesse qui permette d'établir une base de travail non équivoque. Ainsi, la noblesse du XIXeme siècle n'est plus celle de l'Ancien Régime. Elle n'est plus protégée par des statuts et des privilèges qu'elle a souhaité elle-même supprimer. Par conséquent la noblesse est composée d'hommes et de femmes qui ont une conscience ethnologique d'appartenir à un groupe ayant des valeurs et des comportements similaires.Le cadre géographique de la recherche est élargi à l'ensemble des cinq départements normands afin de mieux repérer et suivre les particularismes de la noblesse ainsi que l'influence de Paris limitrophe avec la région.La période s'étend de 1789 à 1910 afin de saisir l'ensemble des variations de l'influence politique de la noblesse normande. L'impact de chacune des révolutions ainsi que le rôle de la noblesse dans l'émergence des mouvements révolutionnaires entrent ainsi dans le champ de l'étude.De manière connexes seront envisagés les influences économiques et intellectuelles de la noblesse, notamment son rôle sur les tracés de chemins de fer ou sur la Société des Antiquaires de Normandie.
Fichier principal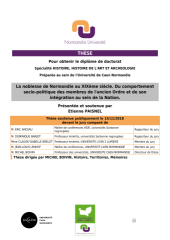 sygal_fusion_28713-paisnel-etienne.pdf (15.59 Mo)
Télécharger le fichier
Origin : Version validated by the jury (STAR)